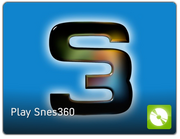 SNES360 is a SNES emulator for the XBox360. Although in a beta stage, it runs quite good.
Graphics/Sound
Achievements (don't be a dumbass and use this on live, your console will be banned)
XUI user interface
SRAM save support linked to a user profile
Filters : Simple2x, Scanlines, TV Mode, Super Eagle, Super 2xSAI, HQ2x
Turbo Mode (Right Trigger)
Aspect Ratio/Stretch Mode support
SaveStates (currently 1 per rom)
Previews

Both sticks during game will pause the current rom and open up the In Game Options
Not Implemented (Yet)
Input Button Mapping
Favorites support
Pixel Shaders to replace Software filters (speed)
Cheat support
IPS support
Multiple ROM Folders
Other misc stuff
Notes
This is still an early beta. It may crash in some spots. Most roms run at 60fps. Some slowdown occurs - this will be resolved in future builds as more PPC code optimizations are implemented.
Ad blocker interference detected!
Wikia is a free-to-use site that makes money from advertising. We have a modified experience for viewers using ad blockers

Wikia is not accessible if you've made further modifications. Remove the custom ad blocker rule(s) and the page will load as expected.